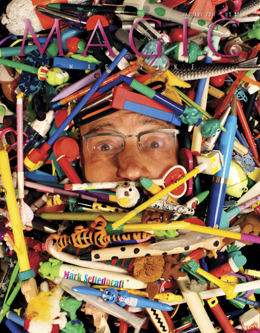 From The Editor



Here's the latest MAGIC Preview, offering a peek at what's coming inMAGIC Magazine for January.

If you're not a subscriber, please give us a try. Check out our risk-free, one-month-at-a-time subscription plan at the bottom of this email. Of course, we still offer our annual subscriptions as well.

If you are a subscriber, these MAGIC Previews give you an advance look at what's en route to your mailbox. And, of course, you'll still receive our exclusive MAGIC eUpdates with all the latest television news.

Feel free to forward these monthly Previews to your friends. If you received this from a friend and would like to be added to the list, please send an email to preview@MAGICmagazine.com.

Also feel free to post bits and pieces of this Preview onto magic websites. If you do, please give credit for where it came from, along with a link towww.MAGICmagazine.com. Thanks!

Stan Allen



Stories in MAGIC this month: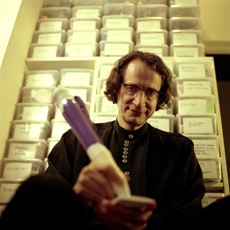 This is Not a Pen


By Adam Rubin
Mark Setteducati is lying on the rug of his Manhattan apartment and he's covered from head to toe with pens — well, not completely. I pull the lid off a large plastic tub labeled "frogs" and pour amphibious-shaped writing implements onto his face. The shoot's photographer says we need more pens — there are still sixty boxes stacked up in the kitchen — so, on go the "hot dogs," the "hearts," and the "tigers." Eventually, all that's visible are Mark's aquiline nose and his designer eyeglasses. While the camera snaps away, Mark shoots me a glance. Even underneath the mountain of plastic, I can tell he's smiling. For a guy who invents novelties and games for a living, Mark Setteducati is often remarkably deadpan. He has a deep, dry voice and an intently focused demeanor. A New Yorker through and through, he has strong opinions; he has no patience for "crap," and is a man of discriminating taste. It's kind of hard to imagine him playing with toys, even as a child.



Criss Angel BeLIEve: Two Years Later


By Rory Johnston
Two years ago on Halloween, I attended BeLIEve starring Criss Angel and subsequently wrote up my impressions of the show for the December 2008 issue of this magazine. I said that I would like to return month by month to see how it evolved. I did not. I waited two years, until it was announced that Criss was now in charge of the show and that major changes had been made to the production, reflecting that it was under new management. "It's my vision now," said the new director/writer/magic designer — Angel himself. So the end of October 2010 seemed like a good time for me to revisit BeLIEve and take a look.



Close-up Magic from Far Away


By Alan Howard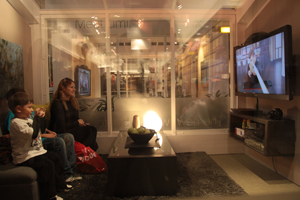 It's more than a television in your living room. It's far from being a telephone. And it's a giant leap beyond the videophones that past generations envisioned we'd all be using by now. It is being marketed as a "telepresence," bringing friends and family into your home, as you appear in theirs. This is the new ūmi, properly written with a straight line over a lowercase U, and pronounced "you-me" — a connection between you and me. The Cisco company hopes ?mi is the wave of the future and is currently introducing the product to shoppers in malls across the US by allowing them to interact with performers in a studio in Southern California. Cisco hired actors to help demonstrate their product, but a new twist was added to the marketing plans when a member of the ?mi team saw a performance by Los Angeles magician David Minkin.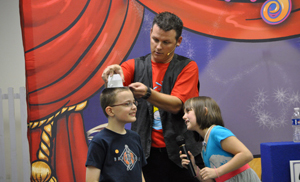 Ken Scott: Lessons in Library Legerdemain


By Mark Nelson
Any child would consider him or herself fortunate to celebrate more than one birthday per year. Atlanta's Ken Scott, who wrote the book on birthday party magic (and naturally, an accompanying DVD), has celebrated up to 350 birthdays a year for more than twenty years. Ken's thriving business in birthday parties has solidified his reputation as one of the premier children's party entertainers in the southeastern United States. Notwithstanding his success, for most of the past decade he has been broadening his performance art into an equally lucrative area, for which the only price of admission is a library card.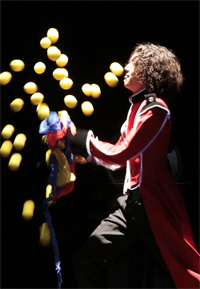 South for the Winter


By Rory Johnston
After a short delay, The Magic of Sterling, starring nineteen-year-old Sterling Dietz, officially opened at the historic Teatro de la Cuidad in the tourist town of San Jose del Cabo, Mexico. Sterling says it took over two years to secure authorization for the use of the government-owned theater. The soft opening, originally scheduled for mid-September, actually took place on October 16 — an invitation-only event for the "destination management companies," event planners, and concierges of local tourist hotels. The response was positive, with a standing ovation, and word went out about something new in town.



Dead in the Water


One hundred and fifty-eight registrants for David Sandy's third Magic Cruise boarded the Carnival Splendor on Sunday, November 7, to enjoy a seven-day cruise and conference on the Mexican Riviera — Puerto Vallarta, Mazatlan, and Cabo San Lucas, plus fine dining and luxurious accommodations, along with magic shows, magic lectures, and magic camaraderie. Well, for the most part, the shows and lectures happened, and for sure there was plenty of time for camaraderie, but the rest of the party didn't quite materialize.



A Family Gathering


The late William Larsen, Geri Larsen Jaffe, and Bill Larsen Jr. joined in spirit as "Brother" Milt and "Princess" Irene accepted accolades on behalf of the entire magical Larsen family on December 6 in Las Vegas. Over 200 "family friends" gathered at the Orleans Hotel as the Fantasma IBM Ring honored the family that brought the world Genii, It's Magic, The Academy of Magical Arts, and The Magic Castle.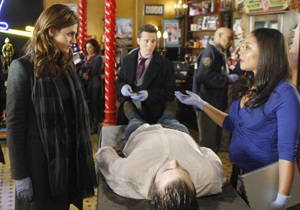 A Magic Castle
Summoned to the scene of the crime, detectives encounter a dead body hanging upside-down in a Water Torture Cell. Did the magician die trying to emulate Houdini's feat, or was it murder? That's the opening scene of "Poof! You're Dead," the latest episode of ABC's comedic mystery-drama Castle.



MacMillan's International Magic


The 39th Annual International Magic Convention was held at the Mermaid Conference and Events Centre in London, England. Even though the event is now held over the course of three days — in this case, November 26-28, 2010 — the gathering is still affectionately known as "Ron's Day," in honor of the late Ron MacMillan, who created and ran the convention for many years.



A Moment With... Simon Lovell


Simon Lovell just celebrated the seventh anniversary of his weekly show, Strange & Unusual Hobbies, in New York.MAGIC Magazine sat down with Simon to learn about that milestone of consistency and some recent changes in his life.



The Rebirth of the Hofzinser Commemoration Ring


In 1933, German magician Robert Farchmin endowed a finger ring dedicated to Johann Nepomuk Hofzinser (1806–1875). Crafted by Austrian designer Anton Stursa, the Hofzinser Ring is considered one of the most important awards in German magic.





More products reviewed this month:



Eighteen products are reviewed this month by Michael Claxton, Peter Duffie, Jason England, Gabe Fajuri, Brad Henderson, Will Houston, and John Lovick: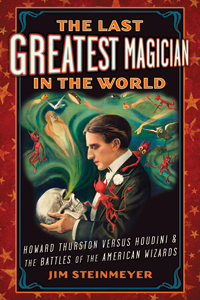 The Last Greatest Magician in the World: Howard Thurston versus Houdini
and the Battles of the American Wizards
by Jim Steinmeyer
Loki
by Ramanos and Magic Tao
Memento
by David Regal
Magic Marvels #5: Richard Osterlind's Any Card at Any Number
by Andy Milsusnic and WebGames 3d
Red Streamlined Convertible
by David Regal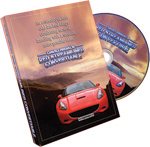 Fully Loaded

by Gareth Shoulder

Mash Pack

by Garrett Thomas

Classic Correspondence

by Mike Caveney

Spotlight on the Card Sharp

by Lawrence Scaife

Learned Pigs & Fireproof Women

by Ricky Jay

Dupes

by Gary Jones and Chris Congreave

Alice's Revenge

by Bob Farmer

The Magic DataBase

by HEH Software

Subsequent Impuzzibilities

by Jim Steinmeyer

Torn 2 Pieces

by Shawn Farquhar

The Revolution featuring Helter Skelter

with Aaron Fisher

Magic Shows: 30 Years of Programmes from Daniels to Derren

by Ian Keable





More tricks and advice this month:



Joshua Jay's "Talk About Tricks" features great new magic from Harapan Ong, Yoann Fontyn, Matthew Featherstone, J.K. Hartman, Bobby Hasbun, and Dominic St-Jacques.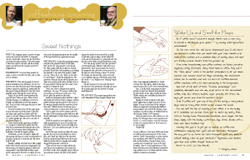 Gregory Wilson & David Gripenwaldt's "Coffeehouse Conjuring" will bring one innovative coffee trick per month to the pages of MAGIC — until your cups runneth over.

Joanie Spina's "Directions" focuses on what makes Christopher Hart's act so successful.

Mike Caveney's "Classic Correspondence" offers analysis of a letter that is a snapshot depicting America's Great Depression and how it ravaged every sector of society, including our insular world of magic.

Barry Mitchell's "Teach By Magic" demonstrates how a simple impromptu trick can be used in a wide variety of teaching situations.

Doug & Heidi Scheer, in "Real-World Methods," opens our eyes to the incredible opportunity for family magicians to bring special needs children into their shows.

Thomas Solomon's "Viewpoint" reminds us of the real purpose of what we do as magicians.


Click here to see the entire list of what's coming in the January issue of MAGIC Magazine.