Thursday, January 28, 2010
AMA Member Discount for Magic-Con
MAGIC-CON 2010: California's Premiere Conference for Magicians
Where: SAN DIEGO
When: MARCH 18-21
SAVE 10% OFF REGISTRATION WITH YOUR AMA MEMBERSHIP

Magic-Con is an interactive conference for those serious about the art of magic, where those in attendance can share ideas, insight, and a common experience while working together towards the advancement of an artform.
"Through our mission to advance the art, we will provide a platform for magic's smartest thinkers, greatest visionaries, and top performers and introduce an intellectual mentality behind the art, science and technology of magic."
Featured presenters include:
DAN AND DAVE, JOHN CARNEY, SEBASTIEN CLERGUE, DEREK DELGAUDIO, DANIEL GARCIA, BILL GOODWIN, GUY HOLLINGWORTH, CHRIS KENNER, JOHN LOVICK, MAX MAVEN, ERIC MEAD, APOLLO ROBBINS, JC WAGNER, PAUL WILSON, MICHAEL WEBER

2010 Guest of Honor:
JUAN TAMARIZ
The Academy of Magical Arts is pleased to support the first annual Magic-Con conference. We encourage all our members to consider attendance.
*An exclusive promotion for AMA members has been arranged. Simply follow the link below and SAVE 10% off the registration price. This offer is valid through February, so act quickly as the event is expected to sell out.
Saturday, January 23, 2010
The Big Show
| | |
| --- | --- |
| Start Time: | Sunday, January 31, 2010 at 6:00pm |
| End Time: | Monday, February 1, 2010 at 12:00am |
| Location: | |
| Street: | 66 North Fair Oaks Avenue |
| City/Town: | |
| | |
Friday, January 22, 2010
Magic Magazine February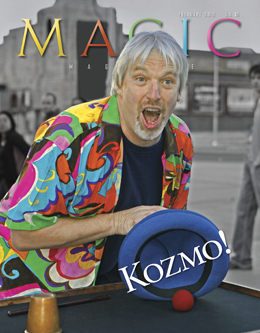 This months Magic Magazine features Kozmo. Kozmo is one of the hardest working magicians I know. He runs a DVD production company, a magic distribution company and a DVD video magazine. He's a restaurant performer as well a a street busker. It is awesome to see him grace the cover.
Wednesday, January 20, 2010
Want to be on TV? Wonder how long the line will be this year.
UNIQUE FUNNY TALENT ACTS (LOS ANGELES)
Reply to:
gigs-pzmdt-1562261769@craigslist.org
---
LAST COMIC STANDING SEEKS UNIQUE COMEDY ACTS

Do you have a unique comedy act America needs to see?
Are you a funny, outrageous, or over-the-top magician or ventriloquist?
Do you have a hilarious novelty act that has to be seen to be believed?
Does your act include a zany or wild costume?
Are you fearless on stage and completely unforgettable?

Last Comic Standing wants to see you!

Auditions will be held on the east and west coasts this season in March 2010.
Show us your best 2 minutes, and you could appear on primetime network tv!
Los Angeles – Improv Comedy Club March 6 or 7(TBD)
New York – Gotham Comedy Club March 14
*Please submit your act electronically at lcs7submissions@gmail.com.
Include your name, contact info, and which city you will audition in.
Please email any questions as well.
Tuesday, January 19, 2010
$35,000 for illusionist.com?
Wow, a lot of money to have the title illusionist.com $35,000-$40,000?
I think http://howdidhedothat.com (how did he do that) is good enough.
Illusionist.com
Starting Bid Price:
35,000 USD
Category
Entertainment
Lot Description
30,000 USD to 40,000 USD
Monday, January 18, 2010
Magic-Con: Magic Castle is now sponsoring Magic-Con
The Academy of Magical Arts


We are delighted to announce a new sponsorship from one of the most internationally respected organizations in magic, The Academy of Magical Arts. World famous for their clubhouse, The Magic Castle® in Hollywood, California, The Academy of Magical Arts is an exclusive organization, "which promotes the art of magic, encourages fellowship and maintains the highest ethical standards."

It is an honor for us to have the support from such a prestigious organization, one which we admire for its ongoing contributions to the art.

Through their generosity, everyone in attendance will receive an honorary 30-day membership into the Academy of Magical Arts which grants access into The Magic Castle®, including their vast library. We therefore encourage all of you to plan some extra time during your stay in Southern California this March in order to visit this spectacular club.

Sincerely,
Magic-Con
Confrontation, the movie
Last night I went to a walk through of The Big Show I am performing on the 31st. I hung out with some of the talent and the producers of the event. One interesting person I met was a 21 year old hypnotist haberdasherer. He had a awesome suit and a cell phone that he created, made out of wood, rotary dial and World War II leather strap. He was a character and it will be a fun show. I stayed for a couple of beers with the producers and these artists. I was doing some magic to a guy named Tim and he gave me the best over-the-top responses. I have to get him to be in the audience for my demo tape. At one point, he said to his buddies "This guy is the devil".
After the meeting at Old Town Pub, Nikki and Andres gave me a ride to the North Hollywood subway station and I rode it to the Magic Castle. I saw some of the regular characters and was happy to get out of the rain. I noticed the afro of Zach Waldman so I called him over. When he was within talking distance, he exclaimed "What the hell were you doing, Pete told me you were doing magic in Ye Old King's Head". I told him, I was not performing, I was showing an effect to two friends. Zach said "I perform magic in there, thats my venue". Not challenging him, I told him that I don't live down there anymore, and Pete lost customers that night and I don't enjoy that bar anymore which I am unhappy about because I like the bar staff and security employees. I only went to that bar because I lived behind it. The thing that bothers me. I have never seen Zach Waldman perform magic for the groups of people at Ye Olde Kings Head and I lived behind the bar for over a year and half. When I did see him perform, it was for a small group of magicians to give him criticism about his act he was bring to a college in Utah or something.
I went home on the subway and while I was in the station, a homeless man said "What's wrong with your hair?". I laughed and told him I was a magician. I feel silly when I tell people I am a magician without showing something magical. I put a half dollar in front of him on the subway bench. He watched me. I waved my hands over it, then waved my hands again, then the coin vanished. It was enjoyed.
Friday, January 8, 2010
Planning your trip to Magic-Con
from the Magic-Con website blog
We have been receiving many emails requesting a schedule of events for Magic-Con, mainly so registrants can effectively plan their travel arrangement to and from San Diego. Although we do not wish to reveal the schedule, we do encourage everyone to arrive Thursday, March 18th and stay through Sunday, March 21st.
The first event of Magic-Con 2010 will begin Thursday evening at 7pm, registration is expected to open around 4pm, however, will remain open throughout the weekend for those arriving late. The last event of Magic-Con will end late Sunday afternoon with a closing ceremony expected to begin at 5pm, and lasting no more than an hour.
Therefore, if you must leave Sunday evening, please try and book a later flight. The San Diego International Airport is about a 5 minute cab ride from the Hilton Bayfront Hotel. If you have any other questions, please don't hesitate to contact us.
Subscribe to Posts [Atom]