Monday, October 26, 2009
It's here, Hollween at the Magic Castle


It's Here

The Magic Castle & Roy Johns
Presents
Phantasmagoria
Revenge of the Living Dolls
October 26th through November 1st, 2009
Special Event Door Charge



---
---


The FreakShow Deluxe

in

The Inner Circle
Monday, October 26th through Thursday, October, 29th
8pm to Midnight
---
The Magic Castle
presents

Gris Grimly's
Cabaret Macabre
8pm to 1:30am
October 30th through November 1st
in the Inner Circle

Much like a traditional Cabaret, Cabaret Macabre will feature comedy, music, theatre, burlesque and art among a spooky crowd. Here's a taste what you can expect...
LIVE BAND PERFORMANCES BY CREATURE FEATURE
Comprised of the vicious vampiric vocalist Curtis RX and the ghoulishly fiendish organ master Erik X, the California native horror attraction Creature feature is set to take the underworld by storm. Creating a haunting mix of vintage horror visuals, old school beats, a carnival feel and a strangely rebellious approach to the modern ideals, the two monstrous musicians weave tales of the macabre, creating anthems for the horror minded and horror born alike.
I'm happy to have Creature Feature a part of Cabaret Macabre as the (haunted)house band. They are sure to carry us through the night. If they wont have us feeling safe in wonderland, they will be scaring us into a new pair of trousers.
LIVE BAND PERFORMANCES BY THE VOODOO ORGANIST
For the past seven years, the Voodoo Organist has been spreading his gospel of salvation through sin all over the country. Hard to categorize, yet instantly recognizable, he plays everything from industrial waltzes to drunken mambos; garage punk gospel rave ups to swinging exotic demonic blues. The Voodoo Organist will steer your conga line straight to hell, and you'll be dancing like the devil the whole way down.
OPERATIC SOUNDS BY ASHLEY KNIGHT
Soprano Ashley Knight has earned distinction in wildly varied contexts, from the traditional opera stage to the underground music scene. Ms. Knight is passionately devoted to dusting the cobwebs off of the operatic art form and making it compelling to the opera fan and the uninitiated alike. Supported by highly imaginative visual elements, skilled acting, and a taste for the unexpected, she is creating a world of great beauty and surprising depth.
BURLESQUE BY VICTORIA VENGEANCE
Known for stealing hearts and eating brains, Victoria Vengeance is sure to lure you in with her over-the-top set pieces and performances-a fusion of traditional striptease and dynamic theatrical-style. Victoria has given the burlesque community something to rave about. For this show, she brings us her penny arcade fortune telling madam act, which I promise will unhinge your jawbone and knock it off your skull. Not for the squeamish or the lovesick.
Your host Mistress Avalon will guide you through a time warp where ghouls are the hired hands and marionettes come to life. Have a howling good time, but try to avoid running into the dangerous hornswoggling ghouls, Gorp and Malick. In between changing sets and beating the crypt out of each other, they are known to hoodwink guests out of money, jewelry and even their pants. Spooky music will go bump in the night thanks to DJ Josh Schneider (Friday) and DJ Dave Bats (Saturday-Sunday).
---
The Magic Castle Annual
Costume Contest
Friday, October 30th and Saturday, October 31st
11pm
in the Inner Circle
$10,000
in Prizes

Prizes for
Most Magical
Funniest
Scariest
Best Couple or Group
What the Hell is it?
Homemade
Most Popular
Special Guest Judge
Friday, October 30th

Tippi Hedren
Star of
Alfred Hitchcock's "The Birds"
Magic Magazine November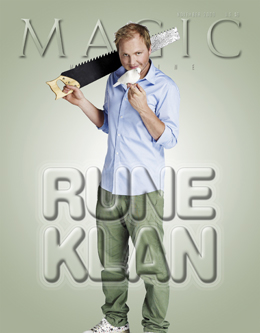 I am so excited for the next issue of Magic Magazine. On the cover is one of the magicians I am inspired by, Rune Klan. One of my favorite routines that I perform all the time is something that was taught by him.
The next month's magazine has coverage of the World Magic Awards that filmed a couple weeks ago. The World Magic Awards will be airing in November.
Lastly, there is a article about the Las Vegas magician Scott Hitchcock. I have met Scott a couple of times because he hangs out with the guys from Street of Cards.
Friday, October 23, 2009
Magic Newswire reports: ED ALONZO WINS THIRD WMA AWARD
This is Ed'S third award from World Magic Awards, this year in the category of Best Variety Magician. Ed was also one of the featured performers during the taping for the show hick will air in November. Pictured with Ed are his assistants, Chris Mitchell & Jenna Jarvinen. Ed also let us know that he is preparing to take part in a "cool Documentary about Magic." He's still on tour with Britney Spears and they're headed of to Australia next month but is currently performing weekends at Great Americas Halloween Haunt, a cool comedy magic and production show called "Psycho Circus of Magic and Mayhem". (through October 31st.)
Criss Angel to escape from Mexican Prison?
If you've been following Criss Angel's Twitter account, you know that he's vacationing in Mexico with his family. Using photos, videos and text, he has been sharing the experience with his fans. Angel's two most recent posts are raising eyebrows and making people wonder what he's currently up to. The top picture was posted two hours ago with the text "Cop car following us." One hour later there was a link to the bottom photo which appears to beCriss being taken into custody by Mexican authorities. Is it real, or is the Mindfreak just playing games with everyone's head? Only time will tell! Stay tuned for updates as we get them.
Edit:
Criss Angel has since updated his Twitter status to confirm our speculation that his "arrest" in Mexico was in fact a joke. Here's the proof:
Halloween at the Magic Castle
Halloween week at The Magic Castle
Close-Up Gallery . . . Early Shows at 7:00 – 7:45 – 8:30 – 9:15

Rob Zabrecky

Late Shows at 10:00 – 10:45 – 11:30 – 12:15

DeadEye Dick

Parlour of Prestidigitation . . . Early Shows at 7:30 – 8:45 – 9:30

Pop Haydn

Late Shows at 10:30 – 11:30 – 12:00

Georges-Robert

Museum . . .

See Host for Showtimes Andrew Goldenhersh

Palace of Mystery . . .

Shows at 8:30 – 10:00 – 11:15

Phantasmagoria

Inner Circle . . . Monday through Thrus 8pm – Midnight

FreakShow Deluxe

Friday through Sunday 8pm – 1:30am

Gris Grimly's Cabaret Macabre

Friday and Saturday Costume Contest

$10,000 in Prizes to be given away

Prizes for Most Magical Funniest Scariest Best Couple or Group What the Hell is it? Homemade Most Popular

With Special Guest Judges

Make-up provided by MAC

Friday, October 9, 2009
Christmas Parade
Hollywood Christmas Parade due to be held on Sunday, November 29, 2009, at 6:00 p.m. The Magic Castle will have 15 - 20 strolling magicians to perform along the 3.5 mile route along Hollywood Boulevard and Sunset Boulevard. This event is scheduled to be televised twice in prime time on Thursday, December 10th and Thursday, December 24 on MyNetwork TV (Channel 13).

Subscribe to Posts [Atom]