As reported by Magic Magazine, here is the latest magic news, on and off the air.
Home and Family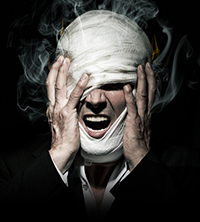 Thursday, October 31st, 10am

E/P, 9 CT, Hallmark
Ivan Amodei, dressed as Harry Houdini, performs a head-on-fire effect on the daily talk show, airing on the anniversary of the legendary magician's death.
Criss Angel BeLIEve
Spike
BeLIEve, Criss Angel's eleven-part series, is airing and re-airing on the Spike network.
Click here
for the latest scheduling information.
Robin Leach reported today that Criss will be undergoing surgery on his shoulder, which will result in his live Las Vegas show going dark for the first three months of 2014. To read the complete story,
click here
.