I received my issue yesterday but here is the teaser...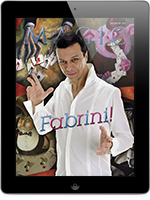 From The Editor



When planning the recent MAGIC Live, we all knew there were going to be a couple of emotional moments: Jeff McBride interviewing Wayne Dobson; and Johnny and Pam performing their bird act for the last time. But there were also a few emotional surprises, one of which was Kevin Spencer's talk on the Healing of Magic. So, we've asked Kevin to tell the story "one more time" — in print. Well, not just in print. We're also posting the video of his entire MAGIC Live presentation on the MAGIC Plus page this month. After you've read it or watched it or both, give some thought to how you can use your magic to help others.

Thanks for your continuing support…

Stan Allen

P.S. The November 2013 issue of MAGIC Magazine is now out. If you haven't already received your copy, here's a look at what's "between the covers."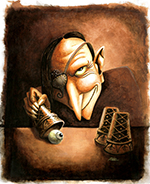 Stories in MAGIC this month:



Fabrini! An Artist in Two Realms


By Kevin James
The comedy magic act of Vik & Fabrini came to the attention of the magic world when they won a major prize at FISM in 1988. While they have been employed continuously since that time, Fabrini has also followed a different artistic path, creating fantastic and unusual works of art.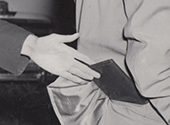 An Aristocrat Among Pickpockets


By Kenny Quinn
Danish magician Tommy Iversen crafted an international career as a pickpocket without really planning to do so. Yet once his wife and his agent agreed they could do something new, Gentleman Jack was soon born, charming audiences the world over while comically lightening their pockets.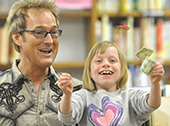 The Healing of Magic


By Kevin Spencer
As Kevin Spencer gradually built his own touring show of grand illusion, he didn't think there could be anything better. But he was wrong. Once he discovered the therapeutic, healing power of prestidigitation, a new world opened up for him — a world he has shared with many others.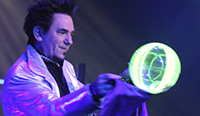 When Magic Comes to Town


By Mike Heidtman
Billed as "The Future of Magic," the themed, character-driven magic and illusions of Dale Scott and Ana have taken them around the world — quite a journey for this boy from a show business family in Ohio and a fitness instructor from Spain.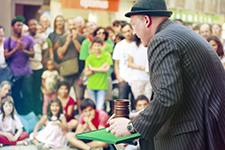 Plus Updates on…
Bedrocktoberfest: Music, Magic, and Beer in Los Angeles
Encontros Magicos in Portugal
A Moment With… America's Got Talent Finalist Collins Key
The Illusionists second unit and UK television special
Nothing to Hide in New York City
Harry Houdini returns to the UK
Farewells to John Calvert, Dick Newton, Jon LeClair, and Greg Farmer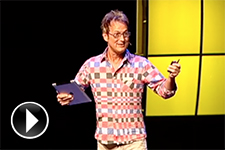 Bonus Content for the November issue…
More of Fabrini's paintings and cartoons
Video of Kevin Spencer's "Healing of Magic" talk at MAGIC Live!
Video clip from More Alike Than Different
Jason England on "Flashback: Inner-Workings"
Convention Podcast: Daytona Festival of Magic




Products reviewed this month:



Sixteen products are reviewed this month by Peter Duffie, Jared Brandon Kopf, Francis Menotti, Arthur Trace:

Full Bloom by Gaëtan Bloom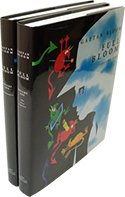 MOVEMiNT
by Darryl Vanamburg
F---ing Coins
with Clément Kerstenne
and Philippe Bougard
Inexplicable
by Steve Shufton
Wedge
by Jesse Feinberg
Way Out
by Marc Oberon
Clued In
by Dick Steiner
The Encyclopedia of Cigarette Tricks
by Keith Clark
Royal Fantasy
by Lubor Fiedler
PaC Stack
by Paul Carnazzo
The Heinous Collection, Volume 1:
False Shuffles & Cuts
with Karl Hein
Modern Triumph
by Michael "Six" Muldoon
The Crusade: A Mind Reader's ACAAN
by Andrew Brown & Atlas Brookings
Ultimate Self Working Card Tricks, Vol. 2
presented by Big Blind Media
Emotional Mentalism
by Luca Volpe
And there's even more tricks and advice this month: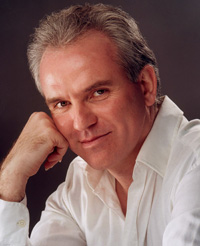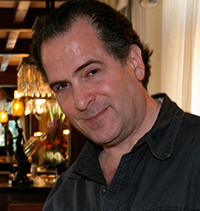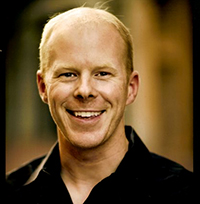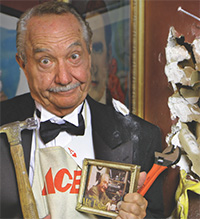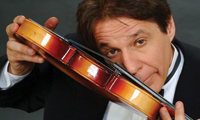 Loving Mentalism: Trick Photography
Ian Rowland
The effect in this month's edition of "Loving Mentalism" is very simple: using your psychic energy, you are able to warp and distort a photo stored on your cell phone. The photo is openly displayed at the start, and it is clear that you do not switch the photo or open a different one. The spectators check the results for themselves, without your touching or handling the phone at all, and yet the photo they saw before is now warped and distorted as if zapped by psychic energy. This is a low-tech idea that will work with any phone capable of storing a photographic image.

Flashback: Inner-Workings
Richard Kaufman
Over the last 22 years, we've been proud to present some incredible magic on the pages of this magazine. Close-up to stage, kids to mentalism — it could (and did) fill volumes! This month, we're "flashing back" to the very beginning, 1991, to revisit three routines from the early issues of MAGIC Magazine: Twisted Trio by Larry Jennings, Michael Skinner, and Derek Dingle (September 1991); The Duck Change by Hiro Sakai (September 1991); and Passage To China by Giovanni Livera (December 1991).

First Look: The Approach
Jamie D. Grant
For over a decade, Jamie D. Grant has entertained thousands of people from all walks of life, having been asked — and paid — to bring people to a place of joy and wonder. In his new book, The Approach, he strives to turn readers into working magicians and gives a detailed account of what a journey to success will require.

Bent on Deception: Women! Can't Live With Them…
No, Wait, Actually You Can!
Mike Bent
I hate blanket statements. And in the magic world, the dumbest of dumb blanket statements start with the words "Women can't," "Women aren't," or "Women shouldn't." You've probably dealt with blanket criticism. I know I have. Here's an example, as well as some advice for male readers and some advice for female readers.

50 Years at the Castle: Fifty years of Fires, Riots, Floods, and Earthquakes
Milt Larsen
California is known as "the land of shake 'n' bake." Yes, we do have more than our share of earthquakes and fires but, all in all, it's a great place to live. There is no doubt that the sunny climate of California helped ensnare magicians from the East to set up stakes in Southern California so they could be near the "cathedral of conjuring" in Hollywood.
Still, we have to wonder if there isn't an umbrella of magical force that protects those who choose the life of magic.

For What It's Worth: The Legend of Sir Pat-Trick and Saint Joanie
Mark Kornhauser
Something happened at MAGIC Live that still lingers in my head. Patrick Thernes bared his heart and soul to 1,500 of the most jaded magicians in America. "Yes! Yes! Yes!" they said. And while it is unfortunate that there are not enough Joanie Spina units to go around, the Legend of Sir Pat-Trick should be an inspiration not only for a legion of future Sir Pat-Tricks, but also for other Joanie Spinas. We could use more of both.

Paynefully Obvious: Big Fish
Payne
For 31 years, much to the consternation of my ever-suffering wife, I spent the waning days of summer performing at a little Medieval Faire not too far from my home. Well, to be fair, the first couple of years I lived over 100 miles away, so it took three hours to get there. I eventually moved to a city much closer to the site. Which is one of the reasons I performed there for over three decades. At least, that's what I told myself. Truth be told, the main reason I stayed there was that I'm lazy.