Monday, November 28, 2011
IMX Pre-reg is up but the price got steeper
Last year the price was only about $100, this year it's gone up more than twice that.
INTERNATIONAL MAGIC EXPERIENCE: Dec 2011 News
Pre-registration Now Open!
Pre-registration is now open for IMX 2012 ... and with over 20+ of the world's finest performers descending on Las Vegas for 3 days of nothing but magic - you cannot afford to miss out!

IMX is an International Magic Experience - and we live up to that promise by bringing you the very best from around the world ... Sweden, Israel, Canada, Australia, Spain, USA, England, Argentina ... and what a line-up! From FISM champions to underground sensations - here are just a few of the epic names revealed thus far - with so many more surprises to come ...



Unbelievably - we still have plenty more headliners to reveal ...

Early bird registration is $249 - BUT - as a thank you for your support - you qualify to receive an additional $50 off ( enter the special code STARS in the 'discount coupon' box during check-out and click recalculate to activate ) IMX 2012 offers THE best value that magic has to offer ... do the comparison, and you'll quickly discover nothing else comes close. 3 days of non-stop magic. 20+ headliners. The Close-up Encounter. International stage gala shows. Unique special events. Surprise guests. International Youth Magic Championships. Session with the Pros. Small group training sessions. Individual scheduling. Dealers expo and so much more ...

But hurry - demand for registrations for IMX 2012 has been unparallelled with attendees of the prior IMX receiving priority registration.

See you in Vegas !

Craig & the IMX Team

P.S. We value YOUR input. Send your suggestions and thoughts to info@imxlasvegas.com

P.P.S. New for 2012 for our youth delegates - the IMX Secret Session & International Youth Magic Championships in partnership with FISM!
Thursday, November 24, 2011
Magic Magazine December 2011 Preview
Magic Magazine should be on our doorsteps in just a week but in case you do not subscribe or want to see a preview. Here you are: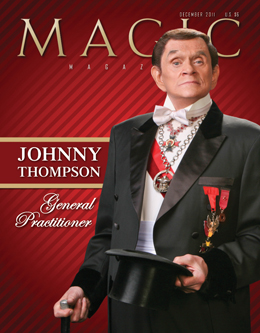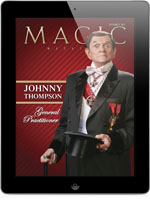 From The Editor



The biggest challenge when doing a story on Johnny Thompson is narrowing it down to which Johnny Thompson you're going to cover. Do you concentrate on the stage magician, the close-up magician, the trade-show magician, the lecturer, the illusion designer, the historian or, more and more in recent years, the consultant? Johnny does seem to defy the old clich&eactue;, "jack of all trades, master of none." In fact, he might just be the closest "master of all" I know, certainly in the magic business.

Rory Johnston's story, while filling in all the fascinating background, focuses mainly on Johnny's consulting work, taking us behind the scenes on what he does, and how he does it, when working with Penn & Teller, Lance Burton, David Blaine, and others. Just read the opening story (below), and I think you'll be hooked.

The December issue of MAGIC Magazine is now out, available both in print and on the iPad. Here's an advanced look at what's "between the covers."

If you're not a subscriber, please give us a try. Check out our risk-free, one-month-at-a-time subscription plan at the bottom of this email. Of course, we still offer our annual subscriptions as well.

MAGIC is also available for your iPad in the App Store. The cost is only $3.99 and it arrives within a few minutes. Best of all, you only buy it once, then you own it forever and can enjoy it wherever you want.

Stan Allen



More stories in MAGIC this month:



COVER: Learning It, Loving It, Passing It On


By Rory Johnston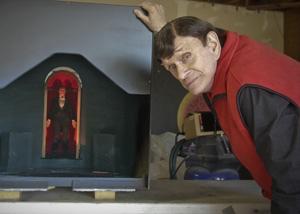 In 1965, there was a guy in Minneapolis/St. Paul making silks jump out of a hat. This was Johnny Thompson's invention, which he used in his own act, so when Johnny heard about it he was so incensed that he took a plane to Minnesota, went to the club, and watched the show. The moment the magician did the jumping silks, John stormed up onto the stage, grabbed the prop, broke it, snatched up the mic and announced, "This is my trick and this guy stole it! I'm sorry to upset you during the show, but if he does it again, I'll be back, and it'll be more than this prop that I'll break!" The story of that incident went viral, so to speak — this was long before the Internet — and, for a while, people stopped "borrowing" material from Johnny Thompson. Today, he smiles wryly at the memory and he shakes his head. Those days are gone. Like a fine wine, he has mellowed with age. These days, we have a kinder, gentler Johnny. But, make no mistake, he is no less formidable.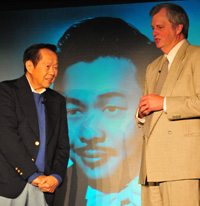 Conference Twelve


Words by Gabe Fajuri, Photos by Wayne Wisner
Over 250 historians, collectors, and lovers of magic's past descended on Los Angeles November 10-12 to attend the Twelfth Los Angeles Conference on Magic History, organized by Mike Caveney, John Gaughan, Frankie Glass, and Jim Steinmeyer. The three-day celebration of conjuring from times gone by followed a format that may seem staid on paper — a combination of lectures, performances, exhibitions, and wheeling and dealing — but in the event's 22-year history, it has remained one of the hardest tickets to get.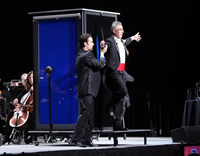 Michael Grandinetti


By Mark Nelson
If there is such a thing as a perpetual magic machine, Michael Grandinetti is it. He dedicates every waking hour to magic, whether performing, creating, planning, rehearsing, promoting shows, or preparing music, to the exclusion of all else. Take, for example, Michael's recent appearance with the Grand Rapids Symphony Orchestra in October of this year. Michael typically threw himself into the details, spending nine months working closely with the Grand Rapids Symphony personnel, meticulously planning first the magic and then the musical portions of the program.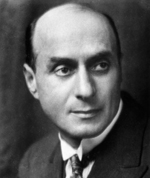 Will Goldston, The Man and the Legend


By Fergus Roy
Will Goldston was an intriguing character, touched with genius, and although he was full of contradictions, he possessed a genuine love for magicians and a burning desire to contribute to the progress of the art of magic. Well over a year ago, I finished what I was going to call "The Goldston Story." But I couldn't shake off the feeling that I had missed something. I was convinced that Goldston, whilst arguably the most influential magical author and publisher of the 20th century, was surprisingly a dismal failure as a businessman. The search led through some thirty birth, marriage, and death certificates. Nevertheless, I was eventually able to find answers that allowed a clear understanding of the great man's quite extraordinary private life and clarified the anomalies in his business life.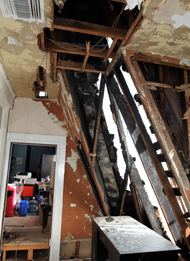 One Hot Party


The theme for Halloween Week at the Magic Castle was "Inferno!" Members were advised through posters, flyers, and emails: "For the last week of October, the Magic Castle will be on fire with the spirit of Halloween!" The question of whether the tag line was truly a promotion or a prediction remains open, because at 12:35 p.m. on October 31, a fire ripped through the attic walls of the 102-year-old Rollin B. Lane Mansion that serves as the clubhouse for the Academy of Magical Arts.
PHOTO: KARI HENDLER



A Moment with... Erika Larsen


On the afternoon of Halloween, the unthinkable happened: the Magic Castle caught on fire. Erika Larsen, vice president of the Academy of Magical Arts, and the daughter and niece, respectively, of founders Bill and Milt Larsen, was on the scene moments after the fire had been put out, and began an exhaustive multi-hour vigil while overseeing the restoration efforts. Sitting at the Castle's Owl Bar four days later, at the club's "soft opening" for members only — with the sound of industrial drying units surrounding us — she talked about the experience.



Shanghai International Magic Festival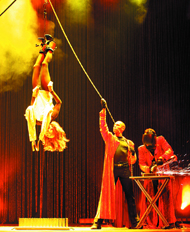 The 7th Shanghai International Magic Festival & Competition was held in Shanghai, China, November 2-8. The gathering, sponsored by the government, was themed around the development of the magical arts in China and around the world. About 300 young magicians gathered to hear lectures, see international stars of magic in the gala show, and compete in the stage contest.



Visions of Sugar Plums


By Our Marketplace Reviewers
Magicians might not believe in Santa Claus, but we can still dream, can't we? These pages showcase brief holiday wish lists from the MAGIC Magazine "Marketplace" staff — Will Houstoun, Jason England, Farrell Dillon, Michael Claxton, Brad Henderson, Peter Duffie, Gabe Fajuri, and Francis Menotti. Each writer was given a simple assignment: compile a list of three products you'd be thrilled to receive as a gift this year, then tell us why. The results will, with any luck, give you a jumping-off point for your own list of desirable doodads this holiday season, be they tricks, books, DVDs, or something else entirely. Happy reading and happy holidays!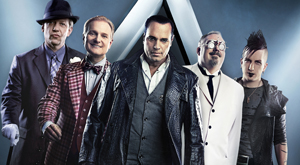 The Illusionists


With a cast of characters reminiscent of The League of Extraordinary Gentlemen, The Illusionists brings to the stage a collection of conjurors, each displaying unique presentations and abilities, premiering a new collaborative production in the Concert Hall at the Sydney Opera House in Sydney, Australia, January 12-18, 2012. Characters featured in the show include The Grand Illusionist (Brett Daniels), The Gentleman, (James Dimmare), The Trickster (Jeff Hobson) The Inventor (Kevin James), and The Anti-Conjuror (Dan Sperry). Two others, The Escape Artist and the Mentalist, will also be included in the cast.


Houdini Returns


After Harry Houdini died in 1926, his final resting place became the Machpelah Cemetery in Queens, New York, where the centerpiece of the family burial plot was crowned with a bust of the famed magician. The gravesite has withstood the decades, with one exception: the three-dimensional visage of Harry overseeing the Weiss family.
The famous bust was destroyed by vandals in 1975. Aside from some temporary replacements used on special occasions, the bust has remained missing for the past 36 years — until now.
PHOTO: RONALD G. CHICKEN



Magicians on Screen


The Museum of the Moving Image in New York City will host a special Magicians on Screenretrospective, taking place from December 10 through January 1. Guest curator JoAnn Hanley has selected a wide range of magic performances from film, kinescope, television, video, and computer animation, along with guest lectures and live performances, including Ben Robinson.



Plus...


A sad farewell to John Daniel.




And there's even more tricks and advice this month:



TALK ABOUT TRICKS
By Joshua Jay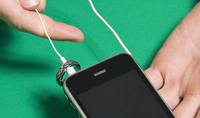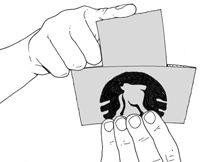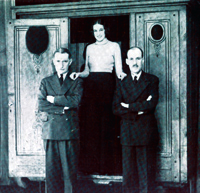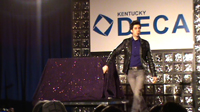 We round out the tenth year of Joshua Jay's "Talk About Tricks" with an issue brimming with non-card miracles and people named Josh. We begin with Jeff Prace's version of Ring Flight using an iPhone. Josh Janousky shares an alchemy-themed routine in which you change the metal on your ring, and Josh Weinstein shows you a humorous interlude with an unlit cigarette. David Solomon and Ken Niinuma provide excellent card routines, capping off a decade of trick talk.

COFFEEHOUSE CONJURING: Sleeveless in Seattle
By Gregory Wilson & David Gripenwaldt
Two flat Starbucks coffee sleeves are introduced. The magician inserts one of them inside the other in a perpendicular position. When the upright sleeve is pushed and pulled back and forth through the horizontally held sleeve, it turns repeatedly inside out and outside in. Your stunned coffee mate then removes the sleeve to find it permanently inside out, just like their sense of reality.

CLASSIC CORRESPONDENCE: Charles Carter to Cyril Yettmah
By Mike Caveney
Charles Carter was well aware of Cyril Yettmah's creative abilities, as well as the tragic fire that destroyed his warehouse full of original illusions. Seeing no reason why these ideas should go to waste, Carter offered to bring Yettmah back to America to work as a consultant. Early in their negotiations, and shortly after the fair opened, Carter faced his own catastrophe. His magnificent Temple of Mystery, the enterprise from which he hoped to "clean up a quarter of a million simoleons" was proving to be a commercial and financial disaster. He immediately shifted his efforts toward another world tour, and thus still pursued Yettmah's ideas and illusions.

DIRECTIONS: It Takes A Team
By Joanie Spina
Successfully mixing magic with singing is a true challenge. The danger lies in the magic being lost in the song and lyrics. Lance Rich has taken on the process of how to balance the two elements in an entertaining fashion that is not at any cost to the magic. He loves to sing, he loves to do magic, so why not do both?

FOR WHAT IT'S WORTH: New Year's Predictions for the Coming Decade
By Mark Kornhauser
In the spirit of New Year's Eve predictions, I have carelessly synthesized macroeconomic forecasts, technological vulnerability factors, and an opinionated assessment of the state of the art. I offer "New Year's Predictions for the Coming Decade: Who Will Live and Who Will Die" — by category.




In the Marketplace this month:



Fourteen products are reviewed this month by Farrell Dillon, Peter Duffie, Jason England, Gabe Fajuri Gregory Gleason, Brad Henderson, Will Houstoun, Francis Menotti: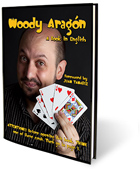 A Book in English
by Woody Arag&oactue;n
The Ontology Project
by Derek DelGaudio and Helder Guimaraes
Finding The Center
by Antonio Zuccaro
The Usual Suspect
with Tony Cabral
Magical Mathematics: The Mathematical Ideas
that Animate Great Magic Tricks
by Perci Diaconis and Ron Graham
Puncture 2.0
by Alex Linian
Timegate
by Bob Klase

Jump
with Frank Zheng
The Art of Card Manipulation
with Jeff McBride
Dante: The Devil Himself
by Phil Temple
The Regal Ring Chain
by David Regal
Newsletter Tricks Project
by Mathieu Bich
Pack Flat Illusions for Kids & Family Shows
by J.C. Sum
Tool
by David Stone
Wednesday, November 16, 2011
David Coperfield on TV
Just saw this come to my attention from
Magic Magazine
Here's some magic on TV coming your way...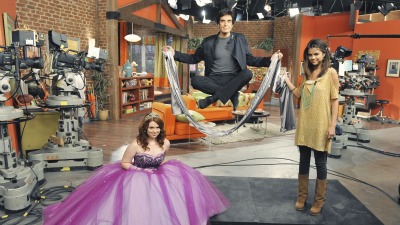 Wizards of Waverly Place
Friday, November 18th, 8:00 p.m. E/P
In a strange twist, real-life magician David Copperfield will join the fictional magi of Disney Channel series
Wizards of Waverly Place
for their series finale Friday evening. David will play himself.
The Next List
In case you missed Marco Tempest on the premier of CNN's
The Next List
, the cyber-illusionist's appearance can now be seen
online
.
IMX Pre-Registration is happening Dec 1st
IMX was such a cool convention this past year and with World Magic Seminar not happening this year its a great bet.
INTERNATIONAL MAGIC EXPERIENCE: Nov News
Pre-registration opens 1st Dec 2011 ...

2011 was off the charts ... IMX 2012 takes it to a whole new level.

From the 21st - 23rd May 2012 - Las Vegas will be descended on once more by 20+ of magic's finest performers from across the globe. You don't want to miss this! From FISM champions to underground sensations - IMX 2012 is set to be another phenomenal hit ... and we have some epic surprises in store!



Attendees of the past IMX will have access to our exclusive pre-registration on the 1st Dec 2011 - allowing you to secure your spot before general registration opens to the magic public at large. With only a limited number of Pro-Pass registrations being made available - you will not only be able to guarantee the best possible seats in the house - but importantly receive priority access ahead of everyone else when scheduling opens for lectures & sessions. Plus - as special thank you for your support - you'll qualify for an extra bonus during the pre-registration period ...

Demand for registrations for IMX 2012 looks set to be bigger than ever before ... so don't miss out. All the details on how to access the pre-registration will be sent to your email last week November ... so keep an eye on your mail ...

We can't wait to see you in Vegas !


Craig & the IMX Team
IMX 2012, 21 - 23 May 2012, Las Vegas



Saturday, November 12, 2011
Marco Tempest of CNN tomorrow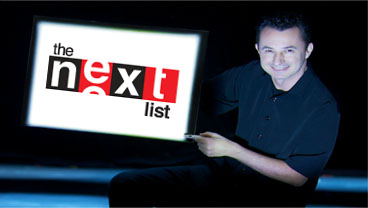 The Next List
Sunday, November 13th, 2 p.m. ET/PT
Cyber-illusionist Marco Tempest has been known to frequently pop up on computer screens thanks to his popular YouTube videos and TED presentations. But on Sunday afternoon he'll take to the airwaves during the inaugural episode of
The Next List
with Sanjay Gupta.
Get a sneak peek at Marco's appearance in
this video
.
Thursday, November 3, 2011
Magic Castle Soft Opening Due to the Damage
Just posted on Magiccastle.com:

Pending approval by several City of Los Angeles authorities, the Academy of Magical Arts is planning to re-open the Magic Castle this coming weekend. Once these approvals are given, the first night of this "soft opening" will be announced.

The current plan is to open the Castle under some special conditions:

- The historic Lane Mansion portion of the Castle will be closed; only the Glover Annex portion will be available, including the Palace of Mystery theater, the Parlour of Prestidigitation, the Inner Circle area and, thankfully, our world-famous William Larsen Sr. Library.

- Due to our limited capacity, this opening will be for "Members + 1"; only members presenting valid membership cards will be admitted, with up to one guest. Since portions of the Castle will still be closed, and the Academy only wishes to give its guests the best possible "Castle Experience", no unescorted guests will be admitted for the time being.

- Again, due to our limited capacity, we ask that all members call our reservation desk before coming up to the club; while we can't serve dinner, our reservation desk can "count noses" and thus advise you as to whether we can accommodate your arrival.

- Our normal dress code will be in full effect.

- A new "Inferno Fund" is being started, and members wishing to financially help the Academy will be given the opportunity to do so throughout the annex during this opening.

To repeat: This opening is dependent on getting approvals by several city authorities, which are expected soon but have not yet arrived. For the most recent information, please check our Website (www.MagicCastle.com) for more details as they become available.
Wednesday, November 2, 2011
From Magic Magazine: A TV Update and Update about the Magic Castle
Wednesday, November 2nd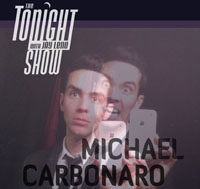 Dear
MAGIC
subscribers...
I know it's last-minute, but I wanted to let you know...
The Tonight Show with Jay Leno
Wednesday, November 2nd, 11:35 p.m. E/P, NBC
Magician/actor Michael Carbonaro returns to
The Tonight Show
with his third installment of "hidden camera" magic. Previous spots aired on July 28th and September 15th, and can be viewed at
http://www.hiddencameramagic.weebly.com
.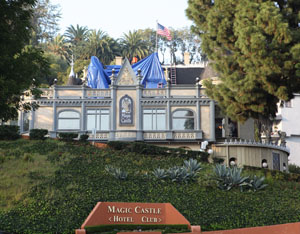 The Magic Castle — Closed!
The Magic Castle is currently closed to business as a result of a fire on Halloween afternoon. While the blaze was limited to the attic and upstairs offices, water damage extended down to portions of the second floor dining room, the main bar, and the basement pub. While not official yet, it is suspected that the fire was caused by hot roofing that was being done that day. Estimates are that the club will reopen within a week, possibly on a limited basis.
Tuesday, November 1, 2011
Magic Magazine November 2011 Preview
I just got my magazine today and saw both Farrell Dillion in it as well as a review of my friend David Gabbay's Stitch. I look forward sitting down with it today.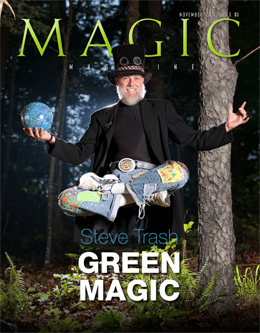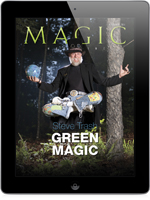 From The Editor



The November issue of MAGIC Magazine is now out, available both in print and on the iPad. If you haven't already received your copy, here's an advanced look at what's "between the covers."

If you're not a subscriber, please give us a try. Check out our risk-free, one-month-at-a-time subscription plan at the bottom of this email. Of course, we still offer our annual subscriptions as well.

MAGIC is also available for your iPad in the App Store. The cost is only $3.99 and it arrives within a few minutes. Best of all, you only buy it once, then you own it forever and can enjoy it wherever you want.

— Stan Allen




Stories in MAGIC this month: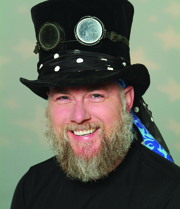 COVER: The Green Scene


By Steve Trash and Rory Johnston
November 15th is America Recycles Day, the only nationally recognized day dedicated to encouraging Americans to recycle and buy recycled products. Hundreds of events are held across the United States to raise awareness of the cause. So, it seems like a good month to look into the world of "green magic" with our cover subject, Steve Trash. In case you're wondering: nope, Trash is not the name he was born with. And nope, Steve won't tell you what that name is. However, he and his friends will tell you how putting a message in your show just might put more shows on your calendar. If you're a family entertainer who works a few school shows, this is certainly an area you should consider. Maybe there's a company in your community that will sponsor a green magic show not only at schools, but also at parks, libraries, county fairs, grand openings, trade shows, shopping malls — you name it. Green could mean green!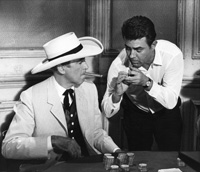 Bill Chaudet: More Than Eighty Years of Magic!


By Kerry Ross
Did you ever watch an old episode of Gilligan's Island, Get Smart, The Wild Wild West, or Gunsmoke and see magic performed by the stars? Perhaps you saw Frank Sinatra change that silk kerchief into the casino map in Ocean's Eleven. If so, you've had the chance to see some classic television and film moments created by Bill Chaudet!
This month marks the ninetieth birthday of a hidden legend in magic. While Harry Blackstone Sr. named him as his chosen successor in the 1940s, and Bill's accomplishments span from Las Vegas hotels to television and more, some folks in the magic community might only know Bill Chaudet (pronounced "shaw-DAY") as Member #8 of the Magic Castle.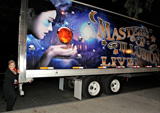 Another Opening, Another Show


Words by Alan Howard
Photos by Kari Hendler
With the 2009 Masters of Illusion TV series still being syndicated around the world, many of the masters themselves have now taken to the road. The open-ended tour of Masters of Illusion — Live! brings the magic from the small screen to large stages across the country.



Making His Mark: Paul Vigil


By Richard Hatch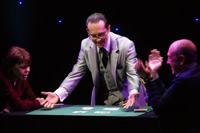 Nearly every Wednesday, the King Ink lounge at The Mirage in Las Vegas is the home to Magic, Mind Reading and Mystery: An Intimate Evening with Paul Vigil. Vigil (pronounced "Vee-hill") is a slightly built, bespectacled, conservatively attired young man in a tailored three-piece suit, neatly groomed with slicked-back brown hair. He could easily pass for an investment banker or the competent personal assistant to someone very rich and powerful. As his audience arrives for the complimentary performance, he smiles and makes eye contact, welcoming them into his domain, making sure they are comfortable in this unusual setting. Vigil is neither loud nor brash, but articulate and soft-spoken. His words, however, have an intensity that compels attention, even in the spacious lounge of a Las Vegas casino tattoo parlor.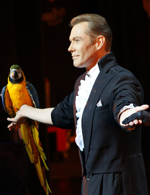 The London Palladium Magic Show


Billed as "Celebrating 100 Years of Magic at the London Palladium," Palladium Magicbrought together a once-in-a-lifetime collection of magic luminaries at the venerable showplace. The show was crafted and assembled over the course of two years by producer Paul Stone, and everything came together successfully on Monday night, September 19, 2011.



The Billboard: The (Magic) Showmen's Bible


By Diego Domingo
Billboard magazine was more than just a collection of show reviews, listings of who's where, and gossip columns. It was the communications hub of American entertainment in the early 1900s, keeping magicians — and all other acts — in touch, no matter where they roamed.


Halloween Mayhem


It's spooky. It's wacky. It's Ed Alonzo's Psycho Circus of Magic & Mayhem, which appeared all last month in Southern California as Knott's Berry Farm underwent their annual transformation into a gigantic Halloween Haunt, where Ed Alonzo's 35-minute show played three times a night.



Magic in Zamora


With a population of 70,000, Zamora is a pretty town in the west of Spain, very close to Portugal, where an international magic festival has been held with great success for the past eighteen years. During these years, a total of 128 magicians from 22 countries have performed at the festival.





A Moment With... Melinda


Melinda, known as "the first lady of magic," became popular in the '90s through her appearances onThe World's Greatest Magic specials and various other Gary Ouellet-produced shows. Then, practically without warning, she left the magic scene. Now, after almost a decade, Melinda has decided to come back, appearing in the new V show at the Planet Hollywood in Las Vegas.



Plus...


Farewell tributes to Earle Oakes and Burton Sperber.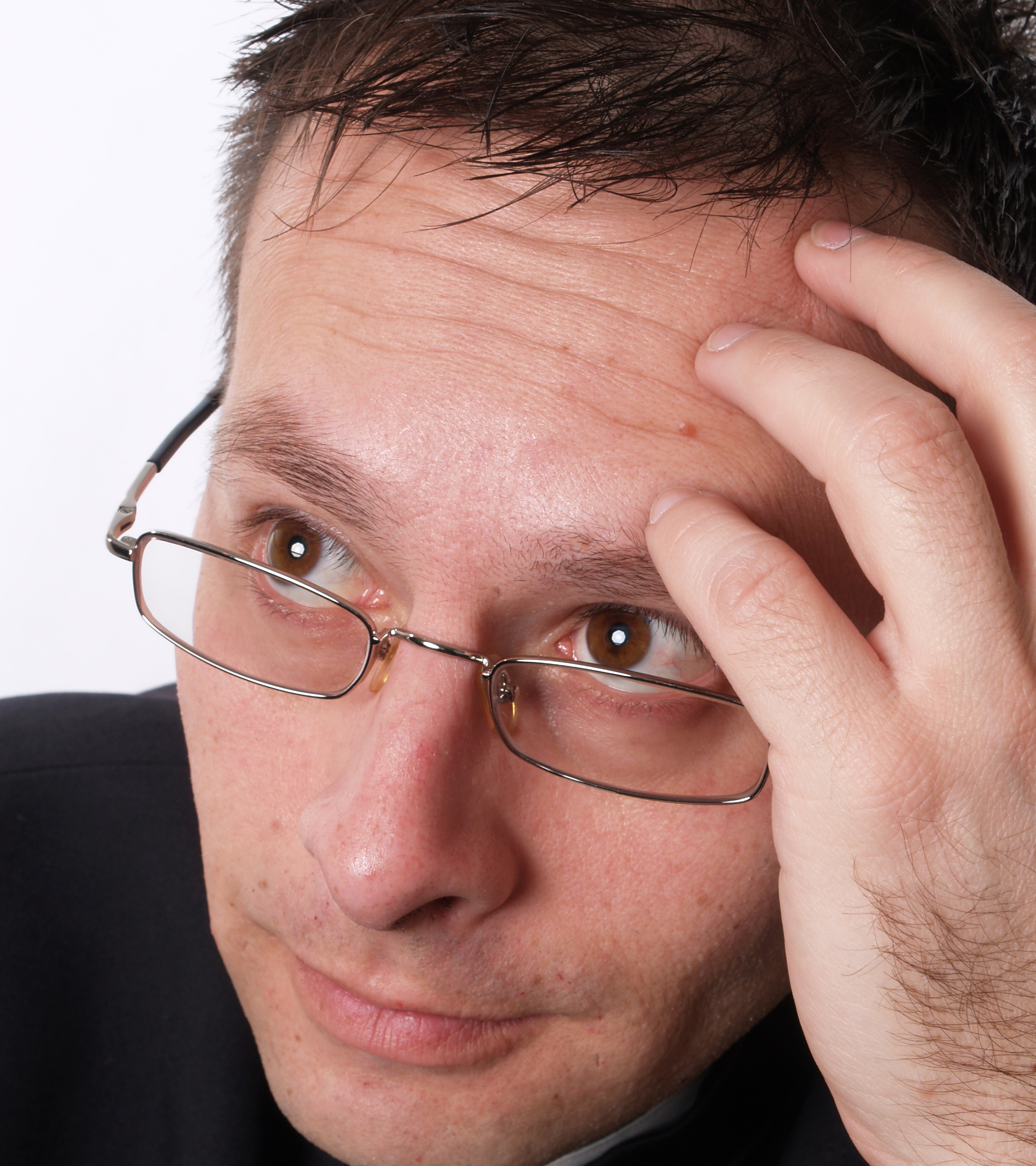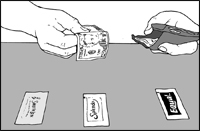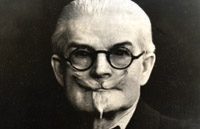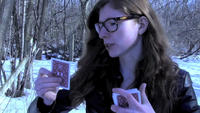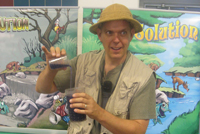 Tricks and advice in MAGIC this month:

TALK ABOUT TRICKS
By Joshua Jay
This month's "Talk About Tricks" is all about one person — Paul Vigil. Paul speaks with conviction about the magic he performs. He hates most magic tricks and is only interested in the strongest possible effects. Anything less than that is a waste of time. In this one-man issue, Paul details his routines for Diplopia, which requires no sleight of hand, High Five, and Sympathy (for the Devil) Cards, both of which require very little technical handling. Which isn't to say that these effects are easy...

COFFEEHOUSE CONJURING: Triple Shot
By Gregory Wilson & David Gripenwaldt
In this short but sweet coffeehouse effect, you simply and confidently wager twenty bucks that you can influence your coffee mate to select any one of three different sugar packets lined up in a row on the table. You never miss.

CLASSIC CORRESPONDENCE: John C. Green to Al Munroe
By Mike Caveney
When it comes to letters from John C. Green to Al Munroe, Egyptian Hall Museum has an embarrassment of riches. Two huge binders are filled with hundreds of pages of correspondence between these two gentlemen — Green, a small-time performer who at age 83 was still going strong; and Munroe, an indomitable researcher of magic's lesser-known personalities. Most astonishing is the fact that Egyptian Hall's binders represent only one-third of the existing Green-Munroe correspondence. The other two-thirds were donated to Bob and Elaine Lund's American Museum of Magic in Marshall, Michigan.

DIRECTIONS: Up Close and Personal
By Joanie Spina
There are many and various successful approaches to the presentation of close-up magic. Choosing material and a style that suits you is always integral to that success. The possibilities are limitless. Exploring a range of styles helps you to find what you connect with and enjoy the most. And much of close-up magic can also translate to the stage.

FOR WHAT IT'S WORTH: What Would Francis Freud Coppola Say?
By Mark Kornhauser
We all know that, after a performance, it's not enough to hear "Hey, nice show." That falls into the category of "damning with faint praise." Acceptable compliments include effusive fawning, unrealistic comparisons, and superlatives delivered with conviction. Our reputation as insecure ubergeeks is not entirely undeserved. What happens when insecure ubergeeks compete? Do magicians secretly want other magicians to fail?

CONSERVATION: A Green Routine for Multum in Parvo
By Doug Scheer
Water in a small cup multiplies again and again to eventually fill many glasses. It's a perfect trick to teach many lessons: conservation, salt water vs. fresh water, and the importance of natural resource protection.




In the Marketplace this month:



Twenty products are reviewed this month by David Charvet, Peter Duffie, Jason England, Gabe Fajuri, Brad Henderson, Will Houstoun, and Francis Menotti: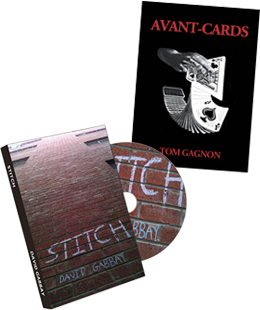 Avant-Cards
by Wesley James
The Dove Whisperer
with James Dimmare
Pandora
by Liam Montier
Slo Motion
by Joe Litvinchuk
The Latitude 2
and
The Longitude
by Domanik Mastrianni
Pierced
by Chris Piercy
Metal Eclipse
by Tristan Mory
Muckless Muck
by Jared Kopf
McComb's Magic — 25 Years Wiser
by Billy McComb
Okito
on Magic by Robert Parrish
Stitch
by David Gabbay
Kodell: Do Something Different
by Jack Kodell
No Smoking Zone
by Nathan Kranzo
I Can Still See Me
by Celeste Evans
Tales of Enchantment
by Walt Anthony
Wacky Packet
by Nick Trost
Color Change: The Arcane Art
of Transfiguration (with Playing Cards)
by Crispin Sartwell
Ultra Gum
by Spidey, Deven Ye, and Richard Sanders
Recharmed, I'm Sure
by Lance Pierce
Ghost Writer
by Spider
Subscribe to Posts [Atom]