Magic is appearing all week starting Monday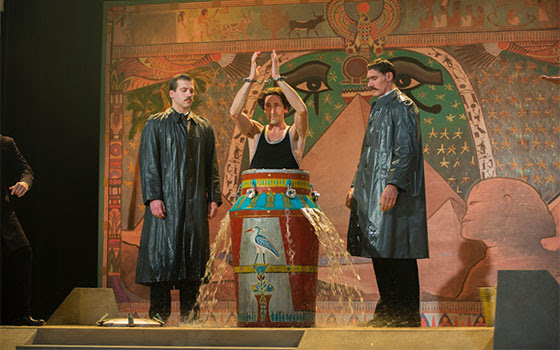 Houdini
Monday

/

Tuesday, September 1-2

,

9 p.m.

E/P, History
The four-hour miniseries, starring Adrien Brody in the title role, premieres this

coming Monday

and

Tuesday

. Brody, a former student at Tannen's Magic Camp, is joined by Kristen Connolly as Bess Houdini, and Evan Jones playing Harry's chief assistant, Jim Collins. Houdini is directed by Uli Edel, with a script by Nicholas Meyer, whose father, Bernard C. Meyer, authored the 1976 biography Houdini: A Mind in Chains.
PHOTO: Colin Hutton / History


Ongoing Series
On Tuesday

nights, there's also Wizard Wars at

10 p.m.

E/P on SyFy. The CW continues offering two nights of magic each week with Penn & Teller: Fool Us on Wednesdays at

8 p.m.

E/P, and Masters of Illusion on

Friday

s at

8 p.m.

E/P. Meanwhile, Thursdays falls to TruTV with its ongoing magic series, The Carbonaro Effect.