Wednesday, October 27, 2010
Scary News About The Castle... Not Related To Halloween
Scary Rumors Regarding the Magic Castle
From:
Richard Kaufman
(genii forums)

Put this in the strictly "rumor" category for the moment, but I've been hearing some stuff regarding the status of The Magic Castle.

First, the deal with the potential new landlord that has been hovering for the past few years is off.

Two, that the Glover Family are done dealing with the AMA and its current president.

Three, that the AMA will be served with an eviction notice shortly and have to leave the Magic Castle.

Four, that the House of Blues, which is going to allow its lease to expire in their nearby venue, wants to move to the Glover's property on which the Magic Castle currently sits.

Again, strictly rumors, but perhaps West Flanagan, who is one of the Glover family, might have something to say here.
Tuesday, October 26, 2010
Halloween at the Magic Castle This Week
Monday, October 18, 2010
Michael Grasso On Cover Of Magic Magazine
In the next Magic Magazine Michael Grasso is on the cover with a story by Rory Johnson. You might remember Michael Grasso to be the first magician to get into the top 10 on America's Got Talent. Also, Magic Castle favorite Rob Zabrecky has a story called Believing Is Art.
Michael Grasso's Top Ten Summer

by Rory Johnston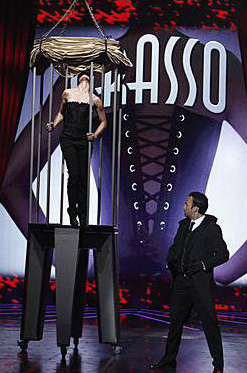 "How the hell do you keep doing this? You tweak it, step it up, every single week."
– Sharon Osbourne

"I crown you the king of magic. How did you do it? It's killing me!"
– Howie Mandel

"You are the best magician we've had that I can remember on the show."
– Piers Morgan

That was the last time the judges spoke. Then it was up to America to vote. Unfortunately, Michael Grasso got cut from the show that night, but it had been quite a ride.

America's Got Talent is a unique experience for those brave or foolish enough to become a contestant. In past years, a number of magicians have entered the competition, including Kevin James, The Pendragons, Nathan Burton, David & Dania, Bruce Block, Dan Stapleton, Becky Blaney, and Bizzaro. This year, the magical performers included Murray, Dan Sperry, Antonio Restivo, Spellbinder (Walter King Jr.), Jason Andrews, William Scott Anderson, and spoof act Chipps Cooney. But it was Michael Grasso who was the first magician ever to make it to the top ten finalists of this nationally televised talent show.

How did a relatively unknown performer manage to accomplish what some of the better known names in the business could not? Where the heck did this guy come from?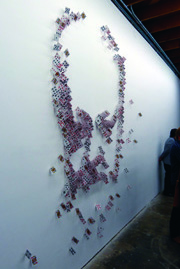 Believing Is Art


By Rob Zabrecky
Photos by Mike Caveney and John Lovick
On the evening of September 23, over 400 guests gathered in Los Angeles at LA>Safe | Vanish. The visual artist turned to the world of magic and illusion for inspiration and emerged with magic-based works of art. The gallery buzzed with an unlikely crowd of curious onlookers, encompassing an unorthodox blend of Southern California's elite art gallery representatives, magicians, musicians, and writers
Friday, October 15, 2010
Halloween at the Magic Castle
Halloween at the Magic Castle 2010
Monday, October 11, 2010
From Magic Newswire: Franz, No Money?
On May 27, 2010, Franz Harary (and his wife, Akiko Harary) filed for Chapter 7 Bankruptcy in the U.S. District Court for the Central District of California (Case Number 2:10-BK-31587-TD). The case is still pending. In the bankruptcy petition, Mr. Harary made the following disclosures:
Total assets: $667,410
Total liabilities: $940,313.73
Current monthly income: $3,674
Current monthly expenses: $8,998
Interesting assets include: 6 rabbits, 2 lizards, 1 snake (total value of pets is $750); total cash on hand $660; home in Los Angeles worth $580,000
Interesting liabilities include: $73,122+ in credit card balances on at least 8 different accounts
Interesting source of income: "Gifts from Father-in-Law"
This information comes from the bankruptcy petion which is a part of pubic record and can be viewed in PDF format
HERE
Friday, October 8, 2010
Back From Innovention, *sigh*
I arrived at the Hotel around 5pm on Monday to find out that this wasn't in Vegas like it said. It was closer to Summerlin than Vegas. The hotel was nice, the Sun Coast is more of a locals casino but it is nice and comfortable.
The first thing to do was registration. I got to the table and got my package containing two show tickets for the nightly magic events, a badge holder, a inexpensive tote bag, schedule and information. One complaint I had was everything felt thrown together. The badges where very cheap and attendees had to write their name on the badges.
I went to the Monday night presentation which was hosted by Alan Bursky. It was called Comedy on Rye and had a panel of Mac King, Amazing Jonathan and Johnny Thompson. The coolest thing to happen was when surprise guest Tom Mullica walked into the room. The panel was ok but there was not a ton of information that performers wouldn't already know.
Later in the evening, they had a back room in TGI Fridays setup as a hangout lounge. It became a cool hangout but waitress service made beverage service slow, they closed down at 1am and there was no smoking area.
Tuesday morning brought a small hangover and I decided to skip the Johnny Thompson hour. I heard it was his performance of many of his tricks but not a real lecture time.

Following Johnny Thompson's talk was a lecture in the Showroom by Magical Al. I never heard of Magical Al. He was introduced as New York's most booked children's magician. I don't know how true that is but since I am not a children's performer, I didn't enjoy this lecture too much. It was a little slow and not magic that I would do. I left the lecture early.
I visited the dealer's room at 1pm and there were several dealers including Magic Smith, Eric Jones, Card Shark, Daytona Magic, Mark Mason, Norm Nielsen, and Bob Kohler. Eric Jones was awesome to hang out with and he helped me with one of my defective DVDs and gave me a set of his digital lecture notes from his website.
At 2pm there was a special workshop on Website Optimization. I heard you had to sign up for it but I don't know who it was aimed at. Most professional performers have website designers. I have a book on search engine optimization and I know you couldn't learn it within an hour.
4pm was the close-up show. It was done in the style that IBM Convention did with their Big Three. The performers were Eric Jones, Mark Mason and Bob Kohler. Mark Mason was a huge hit. He knew how to connect with the audience made up mostly of magicians. He also had a great closing effect. Lennart Green closed the show and wowed the crowd with card wizardry.
In the evening at 8:30pm there was the International Stars of Magic. Opening the show was Arron Sparks with some yo-yo stunts. He really knew how t own the stage and had a great personality. Mel Mellers was hysterical and I would pay to see him again. Mark Raffles came out with three rings and I thought this would have been boring. He was 92 years old and came out with three rings. It ended up being a beautiful comedy of errors. Nathalie Enterline peformed a baton twirling dance number. It was fun but it made me question the title of the show, International Stars of Magic. Richard McDougall did a great comedy act with a cigarette production. This was the second act of non-magic talent. Closing the show was Kevin James. Kevin was good, nothing really new but I did notice that there was no Antonio and he changed up the person he uses for the disembodiment.
The first lecture of Wednesday was Seth Kramer who lectured about Trade Show Magic. He had some good notes but it was another form of magic I do not do for my job. It was now I was realizing that if you didn't go to lectures that didn't apply to you, there was nothing to do.
Right after Seth Kramer was Richard McDougall. His lecture was more applicable. He talked about eye contact, stage energy and presence. It was very informative and great to watch.
1:30pm there was a lecture by Gene Anderson and Paul Stone on the Jumbo Rising Card. Seeing Gene Anderson perform this fried my brain. He explained about some subtleties that made me rethink some effects I have.
The next showroom lecture was about customer service. Shep Hyken told a great cab driver story that we learned was a little embellished but he did bring across a point how little things add up to create consistent service and clients.
The evening lecture at 8pm was Joanie Spina. She lectured about music in performance. Jason Andrews tried a couple of performances with different types of music then Richard McDougall also did a couple of performances. It was good to see but this was my third time seeing her lecture.
After Joanie ended Paul Stone asked for all of us to come back for Criss Angel. At 10:15 they welcomed Criss Angel arrived but the reception was mixed. The room was not as full as the shows or some of the earlier events. They seemed to have had questions planted in the audience because there were only testimonials and softball questions. At the end, Criss pandered to a disabled child in the front row who didn't care to ask a question. It was also inappropriate for Diana Zimmerman to plug her book in the middle of the interview. They should have gotten a Las Vegas Magician or a more famous performer to interview him.
Thursday was the last day but it started with a lecture from Teller called The Red Ball. It was a funny, informative and well prepared lecture. It could have been considered to be a keynote. The lecture hall was packed and everyone enjoyed this lecture. It gave thought to how magic is presented.
Gaetan Bloom lectured after Teller and it was close to the lecture he presented at the Essential Magic Conference. It did have a couple of things that were not presented at EMC but the lecture was equally informative and had a lot of content when it came to creativity and magic.
In the afternoon Dianna Zimmerman and Robert Gould presented what felt to be an infomercial for their $690 book celebrating Sigfried and Roy. Sigfried and Roy were in attendance and it was a very long standing ovation but it seemed inappropiate because the convention felt cheaper than what was put into the book. Also it's not like many magicians will be able to afford the book. They should have pimped it at the historians conference or collectors gatherings.
Closing the convention was another show called Magic and Variety Cabaret Night and Farewell Party benefiting Magic Cares. I didn't have the $20 donation that they wanted but I am sorry they asked. The show opened up with a drag queen singing. This wasn't entertaining and I wasn't drinking because I was going to drive home after the 11pm show. After the drag lady Maggee, they brought up Sweden's Got Magic. They were not funny at all, they were pretty embarrassing and made me want to leave magic. Gaetan Bloom was awesome and did a card production with gloves on, boxing gloves, including split fans. Mel Mellers did a mental show and it was very funny like his first show of the conference. Jason Andrews performed some clasical magic and was very good. He has great personality and poise on the stage. Sonny Fontana did some neat shadows with his hands. Gaetan Bloom came back to do a Kiwi, lemon, orange, lettuce trick with a torn corner card. During the show Paul Stone showed a Criss Angel signed magic kit and said whomever donated $1000 to Magic Cares could have it. That felt kind of bold. Then the finally Ben Stone, Paul Stone's son closed the show with a cover, I left during that performance. I arrived home at 4am.
The shame was that some of the acts didn't show up that were planned. Jeff Hobson did not show, Joseph Gabriel didn't show. Andy Nyman didn't show up. Michael Close didn't show up. Kris Kremo didn't show. The Innovention 2010 Ticket Price was $345. It felt that it didn't live up to the price but I do have to say, seeing Teller was close.
Subscribe to Posts [Atom]