In the next Magic Magazine Michael Grasso is on the cover with a story by Rory Johnson. You might remember Michael Grasso to be the first magician to get into the top 10 on America's Got Talent. Also, Magic Castle favorite Rob Zabrecky has a story called Believing Is Art.
Michael Grasso's Top Ten Summer

by Rory Johnston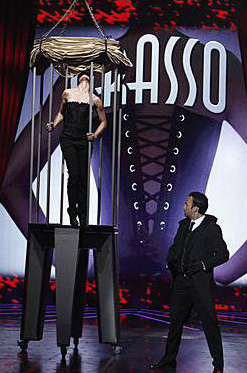 "How the hell do you keep doing this? You tweak it, step it up, every single week."
– Sharon Osbourne

"I crown you the king of magic. How did you do it? It's killing me!"
– Howie Mandel

"You are the best magician we've had that I can remember on the show."
– Piers Morgan

That was the last time the judges spoke. Then it was up to America to vote. Unfortunately, Michael Grasso got cut from the show that night, but it had been quite a ride.

America's Got Talent is a unique experience for those brave or foolish enough to become a contestant. In past years, a number of magicians have entered the competition, including Kevin James, The Pendragons, Nathan Burton, David & Dania, Bruce Block, Dan Stapleton, Becky Blaney, and Bizzaro. This year, the magical performers included Murray, Dan Sperry, Antonio Restivo, Spellbinder (Walter King Jr.), Jason Andrews, William Scott Anderson, and spoof act Chipps Cooney. But it was Michael Grasso who was the first magician ever to make it to the top ten finalists of this nationally televised talent show.

How did a relatively unknown performer manage to accomplish what some of the better known names in the business could not? Where the heck did this guy come from?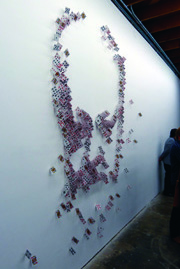 Believing Is Art


By Rob Zabrecky
Photos by Mike Caveney and John Lovick
On the evening of September 23, over 400 guests gathered in Los Angeles at LA>Safe | Vanish. The visual artist turned to the world of magic and illusion for inspiration and emerged with magic-based works of art. The gallery buzzed with an unlikely crowd of curious onlookers, encompassing an unorthodox blend of Southern California's elite art gallery representatives, magicians, musicians, and writers