Tuesday, July 29, 2014
Magic on TV this week
Here's a few things to look for this coming week: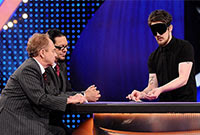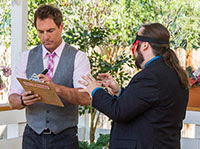 Penn & Teller: Fool Us

Wednesday, July 30, 8 p.m.

E/P, CW
The popular British television series premieres its summer run in the US. [Photo of Penn & Teller with Daniel Madison: September Films & 1/17 Productions, all rights reserved.]
Home & Family

Thursday, July 31, 10 a.m.

E/P, Hallmark
Paul Draper performs mentalism with hosts Mark Steines and Cristina Ferrare.
Masters of Illusion

Friday, August 1, 8 p.m.

E/P, CW
The half-hour weekly series premieres with Jan Rouven, Jarrett & Raja, Michael Finney, Nathon Burton, Michael Grandinetti, Jonathan Pendragon, Rob Lake, and Spencer Horsman, hosted by Dean Cain. [Photo of Michael Grandinetti: Kari Hendler, Associated Television International]
The Carbonaro EffectThursdays,

10 p.m.

, TruTV
Michael Carbonaro continues performing magical effects on unsuspecting people in everyday situations.
Magic in the MoonlightSony Pictures Classics
Woody Allen's latest movie is set in the 1920s on the French Riviera, and tells the story of a skeptical magician (Colin Firth) who falls head over heals for a young clairvoyant (Emma Stone). It opened to limited release on July 25th.
Tuesday, July 22, 2014
Magic Magazine Arrived yesterday!
With Xavier Mortimer on the cover, I am happy. If you are a subscriber and didn't get your issue yet, check out
http://www.magicmagazine.com/x/magazine/view/2014/august
Reel Magic Issue 39 Arriving soon
Saturday, July 19, 2014
Magic Magazine Preview August 2014
From The Editor
August 2014

The August 2014 issue ofMAGIC Magazine dropped into the mail on

Thursday, August 17, 2014

. The digital issue, however, is already waiting for you on MyBookshelf. Click here to log in and start reading.

This month, I'm excited about profiling two amazing magicians you might not be aware of: Xavier Mortimer and Drummond Money-Coutts. They each approach this art with a fresh set of eyes, and that's a very good thing. We also have coverage of the IBM/SAM Combined Convention, and two new television series: Masters of Illusion and Wizard Wars. Finally, if you're unaware of the boom in custom decks of cards — well, let's just say you need to get out more! Designer decks bring a fresh look to the genre, and Chris Chelko takes us behind the scenes of this pasteboard phenomenon that's showing no signs of slowing down. It's all in the August issue — and a lot more!

Thanks for subscribing…

Stan

P.S. Scroll down to check out all the bonus material on M360.




---
Now Playing on…
The MAGIC Digital Network
Xavier Mortimer
This exciting French artist performed three short pieces at the 2013 MAGIC Live! We've assembled all three videos, along with a demonstration of his Tape to Tie trick taught on page 38
DMC
Over the last year or so, Drummond Money-Coutts (also known as simply DMC) has burst on the scene. Three of his most popular Internet videos are available in one easy-to-click place.
Jon Armstrong
In the latest excerpt from Murphy's At The Table Lecture Series, Jon Armstrong teaches a sandwich routine.
Gene Anderson
The master of all things newsprint presented "An Abbreviated History of the Torn & Restored Newspaper" at the 2013MAGIC Live! Here's his performance and his talk, as well as a guest appearance by Jack Goldfinger.
Things to Think About
Stan Allen's series of talks created for EMC in Portugal is serialized here, with one "thing" posted each week.
Marketplace
Get an advance look at what reviews are coming up in print, as well as search reviews that have already run. They're all available in a reader-friendly format.
Monday, July 14, 2014
My friends David and Leeman are on AGT again
David and Leeman on AGT! - 7/22
Tune in

Tuesday, July 22nd

, to see our very own magician members David and Leeman perform for AGTs cameras! 8:00/7:00pm Central on NBC. Check your local listings or the AGT website by clicking the link below.
Subscribe to Posts [Atom]