Here's a few things to look for this coming week: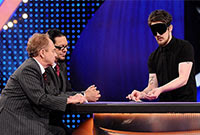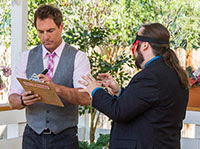 Penn & Teller: Fool Us

Wednesday, July 30, 8 p.m.

E/P, CW
The popular British television series premieres its summer run in the US. [Photo of Penn & Teller with Daniel Madison: September Films & 1/17 Productions, all rights reserved.]
Home & Family

Thursday, July 31, 10 a.m.

E/P, Hallmark
Paul Draper performs mentalism with hosts Mark Steines and Cristina Ferrare.
Masters of Illusion

Friday, August 1, 8 p.m.

E/P, CW
The half-hour weekly series premieres with Jan Rouven, Jarrett & Raja, Michael Finney, Nathon Burton, Michael Grandinetti, Jonathan Pendragon, Rob Lake, and Spencer Horsman, hosted by Dean Cain. [Photo of Michael Grandinetti: Kari Hendler, Associated Television International]
The Carbonaro EffectThursdays,

10 p.m.

, TruTV
Michael Carbonaro continues performing magical effects on unsuspecting people in everyday situations.
Magic in the MoonlightSony Pictures Classics
Woody Allen's latest movie is set in the 1920s on the French Riviera, and tells the story of a skeptical magician (Colin Firth) who falls head over heals for a young clairvoyant (Emma Stone). It opened to limited release on July 25th.