From The Editor
July 2014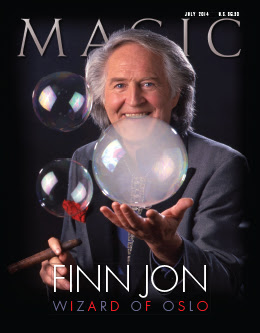 The July 2014 issue ofMAGIC Magazine drops into the mail on Tuesday, June 17, 2014. The digital issue, however, is already waiting for you on MyBookshelf. Click here to log in and start reading.

General Registration for the next MAGIC Live is now open. The dates are August 9–12, 2015, here in Las Vegas. We've managed to keep registration at the same price as last time — $385. If early numbers are any indication, it looks like "everybody's gonna be here!" And the MAGIC Live team is already coming up with some great surprises. An $85 deposit guarantees you the best seating priority available. Visit the MAGIC Live webpage and join the party!

Thanks for subscribing…

Stan

P.S. Scroll down to check out all the bonus material on M360.






---
Now Playing on…
The MAGIC Digital Network
Finn Jon
He's worked Europe's top nightclubs and television shows. We've assembled a montage of performances, as well as clips from his lectures.
Greg Wilson
See a trailer for The Golden Age of Magic, now playing at the El Capitan Theatre in Hollywood.
Magic Camp
In 2008, a documentary was shot at Tannen's Magic Camp. Here is the five-minute opening of that film.
Alex Pandrea
Alex brings something special to everything he teaches, including the Mystery Card, excerpted here from his recent At The Table Lecture from Murphy's Magic.
Joanie & Sir Pat-trick
At MAGIC Live 2013, Joanie Spina explained the process, Patrick Thernes demonstrated the results, and the audience leapt to their feet.
The Hall of Magic
Fifty years ago, General Cigar sponsored Mark Wilson's Hall of Magic at the New York World's Fair. For the month of July, we're offering a video of the entire show -- all 13 minutes and 16 seconds of it.
Things to Think About
Stan Allen's series of talks created for EMC in Portugal is serialized here, with one "thing" posted each week.
Marketplace
Get an advance look at what reviews are coming up in print, as well as search reviews that have already run. They're all available in a reader-friendly format.