From The Editor
September 2014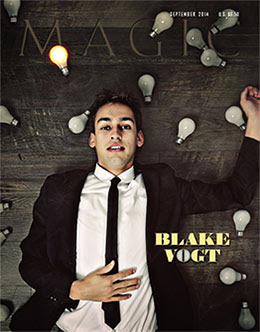 The September 2014 issue ofMAGIC Magazine drops into the mail on

Monday, August 18th

. The digital edition, however, is already waiting for you on MyBookshelf. Click here to log in and start reading.

This month, I'm again excited to be featuring stories about magicians you might not be familiar with: Blake Vogt, Mel Mellers, and H.P. Lovecraft. Their journeys are both diverse and fascinating. We're also covering Houdini, the new miniseries starring Adrien Brody, and Jason Latimer's new show,Perception: See Beyond the Illusion. If you feel like celebrating, we've got stories on Magic Inc's fifty years in one location, the fortieth Tannen's Magic Camp, and a new card-throwing record set by a Lithuanian magician. And if you're looking to learn a new trick or two, you're in luck. Blake Vogt, Steve Reynolds, Ian Rowland, and Mike Bent are on board this month. It's all in the September issue — and a lot more!

Thanks for choosing MAGIC as your magazine…

Stan

P.S. Scroll down for a list of some of the bonus material available to subscribers at M360.




---
Now Playing on…
The MAGIC Digital Network
Powerful Medicine: Simply Magic
Kevin Spencer's short documentary on his Healing of Magic program is our special screening for the month of August. It's 26 minutes that just might change your life.
In One: Blake Vogt
Our cover subject this month has created effects for nearly all of the big names in magic. And he has brought something to "share with the entire class." Watch Blake's performance videos of both Dream Card to Wallet and T-$hirt, then turn to "In One" for the complete tutorial.
At The Table
We're featuring two new excerpts from Murphy's At The Table Lecture Series. Patrick Kun demonstrates and teaches his DIY (Do It Yourself) Aces, a straightforward and easy-to-do version of the Spectator Cuts the Aces plot. John Guastaferro takes a break from the playing cards and teaches a Zen-like bending straw effect.
Mr. Electric Unplugged
Marvyn Roy's autobiography [Mike Caveney's Magic Words, 2005] is now an audio book read by the author, and we have an exclusive ten-minute excerpt at M360. Listen as Marvyn tells how he and his best friend, Alan Wakeling, began creating the world-famous light bulb act in 1949.
Turn It Around
From 2000 to 2008, David Kaye wrote over 100 "Turn It Around" columns for MAGIC Magazine. As a countdown to his upcoming book by the same name, David is revisiting six monthly columns, augmenting them with video. First up, "It's Not the Destination, It's the Journey."
Marketplace
Get an advance look at what reviews are coming up in print, as well as search reviews that have already run. They're all available in a reader-friendly format.