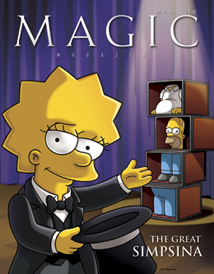 The Simpsons: The Great Simpsina
Sunday, April 10th, 8 p.m. E/P, FOX
With their 22nd season now on the air, The Simpsons has turned to magic as a plot device for an episode titled "The Great Simpsina." When Lisa is forced to run into what appears to be an empty old house, she is startled when the owner shows up. When the old man is revealed to be The Great Raymondo, a famous magician, Lisa begs to be taught the tricks of the trade. Thus, Lisa Simpson becomes The Great Simpsina.

Cover: The Simpsons™ ©2011 Twentieth Century Fox Film Corporation. All Rights Reserved.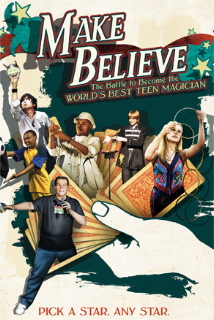 Make Believe
Tuesday, April 12th, 7:30 p.m. E/P, Showtime
The film documentary that follows contestants on their road to the 2009 Teen Stage Competition at the World Magic Seminar debuts April 12th on the Showtime network. The teenage conjurors are Hiroki Hara of Japan; Bill Koch, Krystyn Lambert, and Derek McKee of the US; and Siphiwe Fangase and Nkumbuzo Nkonyana from South Africa. The film also airs on April 16th (11:30 a.m.), 18th (10 a.m.), and 24th (11 a.m.), as well as other showings on Sho 2 and Showtime Showcase. Click here for a listing of dates and times. Make Believe is also slated for limited theatrical release in May.