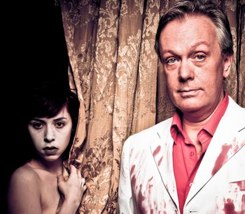 According to Crain's New York Business Journal, an odd trend is to blame for Play Dead's closing on July 24th. Producer Cheryl Wiesenfeld says the quirky, spooky magic experience simply couldn't compete with musicals that made their reputation on Broadway moving to Off Broadway venues like the one PD was housed in. ED. NOTE: The link requires a subscription.
Avenue Q, Rent and Million Dollar Quartet all of whom had profitable runs on the Great White Way have already or will soon open up Off Broadway, which worries some producers that more experimental shows like Play Dead might have an even harder time of succeeding in the future.
"The Broadway musicals that are opening up off-Broadway now are already established brands," said Cheryl Wiesenfeld, producer of Play Dead. "It is hard for us to compete with them."
We eagerly await news of what comes next for Play Dead.