Posted by Editor on December 4th, 2009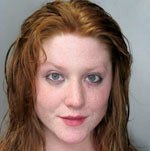 This from the Las Vegas Review-Journal.
A 21-year-old woman who had a magic show at the Riviera this year was arrested for assaulting her 67-year-old boyfriend last week.

Rachel Jessee, who starred in "Scarlett and her Seductive Ladies of Magic," was arrested today by Henderson police on one count of misdemeanor domestic battery.

Her arrest report states that she and her live-in boyfriend, John Lewis, had an argument at their Henderson home. Lewis told police she grabbed him by the ear and struck him with a fist in his right eye. Police said that Lewis was bleeding from behind his ears and had a scratch to the back of his neck. He also had swelling under his right eye, a bite mark to his left tricep and scratches to his chest. He refused medical assistance.