From The Editor



The January 2013 issue, which is now out, might feel a bit like a medical journal, in part because of the article about David Oliver. It's an amazing story of a magician who spent twenty-plus years freely giving his time to help young magicians and then found himself in need of help. A few pages later, we start out a profile on Gary Peterson with the words "Your child has six months to live." And then there's our follow-up with Wayne Houchin, one year after he was brutally burned while appearing on a television show in the Dominican Republic. All three of these stories could have ended in disaster — but they don't!

Also, there's quite a bit of news this month, especially with a new TV series starring Andrew Mayne. It premiers on A&E in January, and we have the exclusive behind-the-scenes story. Plus, coverage of magic in Los Angeles, London, and Singapore. Scroll down to see what's coming your way. Happy New Year!

And thanks for your continuing support…

Stan Allen

P.S. MAGIC Magazine is also available for the iPad. The cost is only $3.99 per issue, and it arrives within a few minutes. Best of all, you only buy it once, then you own it forever and can enjoy it wherever you want.




Stories in MAGIC this month:


It's Wonderful — Life


By Mike Bent
In his magic career, David Oliver was known for mentoring and unfailingly helping others. When he was diagnosed with a fatal lung disease stemming from his many years of performing with birds, the magic community returned the favors, helping David beat the odds with a double lung transplant.



Don't Trust Andrew Mayne


By Rory Johnston
When magician and trick inventor Andrew Mayne takes to the streets, peculiar things happen — sometimes just puzzling, sometimes teaching a victim a lesson, and all captured on a new A&E television series.






Harry Monti: Conjuring, Cups, and Castle


By Randy Kalin and Alan Howard
Last November, Harry Monti set a record unlikely to be beaten: performing at the Magic Castle every year for the past half-century. And that's just one of the many accomplishments of this magician, escape artist, and creator of enduring magic props.





Snapshots of History


By Stan Allen
Every two years, the Los Angeles Conference on Magic History is held by invitation only. The 2013 edition featured another enviable display of classic magic and scholarly presentations.







Gary Peterson, Making His Case


By Rory Johnston
After leaving a career in magic to become one of the world's leading builders of shipping cases, Gary Peterson returned to his performance roots by creating his own theater within his manufacturing plant and warehouse.






Plus Updates on…
Play Dead in California
The new Cardini display at the Magic Castle
The International Magic Convention in London
An interview with Wayne Houchin, one year after his burning incident
Lawrence and Priscilla Khong's Vision show
Performance news on Justin Willman, Mac King, and Criss Angel
Remembrances of Parker Swan and Roland Hill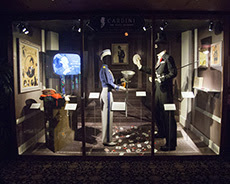 Bonus Content in MAGIC Plus…
Video teaser of Don't Trust Andrew Mayne on A&E
Additional photos of the Cardini display, the International Magic Convention, and Vision.
Jason England's videos on "In One: David Solomon"
Convention Podcast: Abbott's Close-up Convention






Products reviewed this month:



Fifteen products are reviewed this month by Gabe Fajuri, Peter Duffie, Jared Brandon Kopf, Francis Menotti, Arthur Trace:
Japan Ingenious: A Compendium
by Steve Cohen and Richard Kaufman
Tick Tock
by Sean Goodman
Intercessor 2.0
by Gaëtan Bloom
Sneak Peek
by Spidey
Circuit
by Zach Heath
The Carey Collection
Vols. 1 & 2
by John Carey
The Magic Apple Live!
by Brent Arthur James Geris
Greater Magic
by John Northern Hilliard
L&D
by Lennart Green and Dani DaOrtiz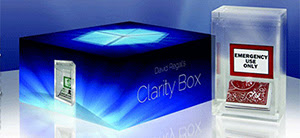 Invisible Magic
by Dr. Simon J. Carmel
Clarity Box
by David Regal
Seventeen Secrets from the Hat & Rabbit Club
Vols. 1 & 2
by IBM Ring 17
The Eden Project
by G. Clarke
Rosepad
by Martin Lewis
The Lookout Wallet
by Paul Carnazzo
Tricks and advice this month:

In One
David Solomon
Over the past five years, David Solomon has published 55 monthly installments of his e-zine, the Card Magic Bulletin, and his name has been a prominent one in the realm of card magic for much longer than that. The four effects in MAGIC Magazine this month follow typify David's brand of card magic: classic effects that are direct and easy to follow, but each one reworked with well-considered and subtle touches that will not only take in anyone "in the know," but will deeply fool those who are not.

Loving Mentalism: Vision in Gold
Ian Rowland
A familiar plot with a very unfamiliar ending is on offer this month. You scribble a prediction in pencil on the back of your business card. Three selected objects are arranged in a row. Their order is rearranged according to the audience's free choices. That's right, the audience freely chooses how to rearrange the objects. Clearly, the point of this exercise is that your written prediction will correctly name the chosen order. It's the sort of thing that could be achieved using a nail writer or similar device to "cheat" the prediction before the big reveal. This is what suspicious minds might suspect, and you encourage their suspicions. When you turn over your prediction, it becomes clear that you only pretended to write something at the start. In fact, the prediction message is preprinted on the back of the card, and embossed in gold ink. The prediction is 100 percent correct, and it's ungaffed, so you can give it away.

Bent on Deception: A Fly on the Wall
Mike Bent
The SAM Annual convention was being held in Boston in 1981, and Ray Goulet was the head honcho. A few weeks before the show, John Calvert, the convention's star attraction, came to town. He and his wife, Tammy, stayed at Ray's home, and the Magic Art Studio became their base of operations. Was I impressed? No. I had never even heard of John Calvert.

Creative Play: Building Blocks
Tracy Atteberry & David Parr
The creative process is a personal reflection of our individual quirks, habits, and preferences. What works for one person might not work for someone else. Similarly, what works well for tackling a particular creative challenge might not be well suited to working on a different one, which is probably why Stewart James developed and collected a great variety of creative tools. In the "Creative Play" series, we too have provided a variety of approaches, so you can experiment with them and use the ones you find most appealing.

Real-World Methods: Booking Referral Websites
Richard Hatch
Let's say you don't yet have a website or that your website is not yet bringing you the number and quality of leads that you'd like. This article will examine alternative booking referral websites that may prove helpful until your own website starts to bring in the leads.

Classic Correspondence from Egyptian Hall Museum: Chefalo to LeRoy
Mike Caveney
After a two-year hiatus, we now begin 24 new installments of this column with a short, handwritten note from the Italian illusionist Chefalo. Raffaele Chefalo immigrated from Italy to America in 1900. As a young man, he worked in a Boston barbershop that was conveniently located near the well-established magic shop of W.D. LeRoy. It was during this time that young Raffaele's interest in magic blossomed. It's impossible to imagine that Raffaele didn't, at the very least, become a customer of LeRoy's and quite possibly a student at his school of magic.

For What It's Worth: OMG! Maturity!
Mark Kornhauser
As it turns out, life is not fair. Childhood influences are disproportionately powerful. Kids lucky enough to be influenced by theater arts will develop an appreciation of acting, music, technology, and the meaning of the art form. Those kids have a much better start in the world of magic than that clever, hard working junior high school kid who has never seen anything other than YouTube clips, and his Uncle Morrie doing Sponge Balls.

Walkabout Soup: Performance Enhancing Drugs
Simon Coronel
Of all the things I've ever done for a magic act, furtively taking drugs in an airplane bathroom is definitely one of the most — let's say, memorable. The drugs themselves were perfectly legal, though the reason I was taking them was more of a gray area.